Happy New Year!
This will different than my usual sporadic posting that I do on this blog, but Hey! It's a new year. Why not switch it up? I have seen several blogs that I follow use this kind of format for a monthly or weekly update post, and I'm going to try it out!
1. What we're eating this week... Monday: Baked Potato Soup Tuesday: Chicken Enchiladas Wednesday: Crock Pot Bolognese Thursday: Leftovers Friday: Mini Turkey Meatball Vegetable Soup Saturday: Leftovers Sunday: Baked Chicken Parmesan
2. What I'm reminiscing about... Mack at Christmas time!
Oh, this boy... I could just eat him up. He was so sweet talking about Santa, Rudolph and Baby Jesus.
He got a play kitchen from Santa and he absolutely loved it!
We both look like goobers in this picture, but I wanted to post it anyway. This was taken at my sister's Christmas party she hosted. I loved being able to share this day with Mack!
3. What I'm loving My new LuMee Case
The Simpson Sisters & their spouses decided to draw names this year and do a "Secret Santa" instead of buying gifts for everyone this year. I loved it and I hope we make it a tradition from now on! My sister, Michelle drew my name and she hit the jackpot! This case is my dream come true. Basically, it is a case with a light on the front so your selfies always have perfect lighting.I found this awesome graphic online to explain: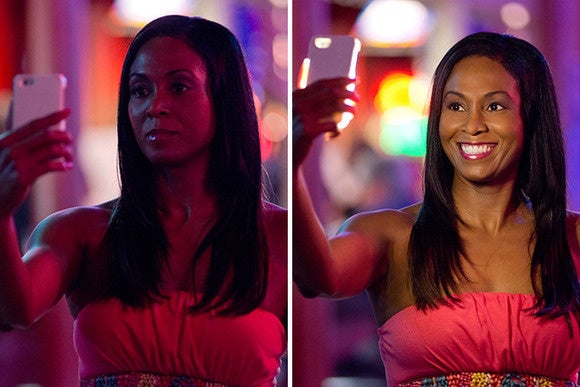 4. What we've been up to... Major de-cluttering and cleaning! I'm ashamed to say, this was the "Before" of my pantry.
Honestly, when I'm cleaning my house or getting ready for company, the last thing I think about is my pantry! But, after the holidays were over, I decided to tackle it. The After:
Yay! It looks so much better. Everything has a place, and I threw away TWO trash bags FULL of expired food or just junk we didn't need/use anymore. We were cooking dinner last night and it was so nice to know exactly where everything  was!
5. What I'm dreading... If it's already happening, can I still be dreading it? Blah. School starting back after a wonderful Christmas break truly is dreadful!
6. What I'm working on...
I'm not big into "resolutions", mainly because they never stick... But, I do have some "goals". I have rejoined Weight Watchers and have started going back to the meetings again. I really want to lose weight and get back on the healthy train... Here's to 2017 being "the year"!
7. What I'm excited about... My Winter Decor!
I love holidays and seasonal decor... So, this year when I was buying some new Christmas decorations, I was mindful to buy some "winter" decorations that could stay up during January and February... The house is always so cold and depressing after the Christmas decorations go up, so I'm glad I planned this! It's not much, but it brings a little something extra to this dreary time of year!
8. What I'm watching...
Ah, January... The lull between all our shows going on Winter break... Every season, I say I'm going to watch the next season of The Bachelor. But, I just can't let it go!
9. What I'm listening to... Audible! I love audio books... Who knew?! I've always wanted to be a reader, but I can never commit to actually reading... Lol I am already on my 4th book since joining at the beginning of December. Uninvited by Lysa TerKeurst is the current selection.
10. What I'm wearing...
Today is the first day back to school since Christmas break, so if I'm being honest, "What I've been wearing" is B's tshirts and leggings... But, I wore this shirt yesterday, and it got lots of laughs from my friends and coworkers! : ) Found at Jane.com
11. What I'm doing this weekend... I'm kind of on a roll with cleaning and organizing my house, so it will probably be very boring and full of more de-cluttering! My next goal is to empty the kitchen cabinets and drawers, wipe them all out, and reorganize. This is the calendar I've been using as a guide:
12. What I'm looking forward to next  week... As part of our attempt to be better about saving money and sticking to a budget, we are trying to eat at home more and out less. I'm looking forward to our *planned* date night out next Saturday night!
 Happy New Year, Ya'll!